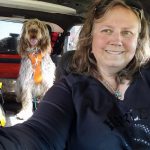 Pigasus Studio thinks pigs can fly just fine, thank you very much.
Pigasus dabbles, a little of this, a little of that. Though currently focusing on leather goods, she's also worked in metals (jewelry), photography, printmaking, and ceramics (and has even created tracking journals for ceramics).
Basically, anything goes!
Feel free to stalk, er, follow her on Facebook and/or Instagram and/or the RSS feed for blog posts.
---
Studio Tour
---
Housekeeping Stuff
The Privacy Policy and Website Terms of Service and Conditions of Use, collectively referred to as "Policies and Terms", govern the manner in which Pigasus Studio conducts business with Users (each, a "User") of the Pigasus Studio website, referred to herein as "Pigasus Studio" and "Site". These Policies and Terms apply to the … Read More
You can download all your data formatted as a table for viewing. Alternatively, you can export it in … Read More